Navara NP300 03/2021 + Yakima Plaform L Ruggedline
Navara NP300 03/2021 + Yakima Plaform L Ruggedline
Yakima platform L with Ruggedline fitment
$1,458.00
RRP $1,559.00
SAVE $101.00 (6%)
In Stock
Yakima RuggedLine® is a premium platform-to-vehicle mounting system. The unique and versatile LockNLoad™ Platform allows you to carry your touring or off-road gear with ease. FEATURES RuggedLine® Mounting System Designed and tested in Australia Extensively tested for off-road performance and wind noise High-end blackened chrome Yakima badging Constructed from powder coated stainless steel The larger hexagonal cut out design allows for better access and easier installation Modern, faceted and angular aesthetic aligned with current automotive styling Tools for assembly supplied Platform Innovative slats with 21 mm accessory slots Beefy profile is built to last and looks just as tough East-west slats allow more flexibility to fit your accessories Versatile perimeter mounting tracks for more ways to mount your accessories Corrosion resistant powdercoated aluminium and additional e-coating 7 latitudinal slats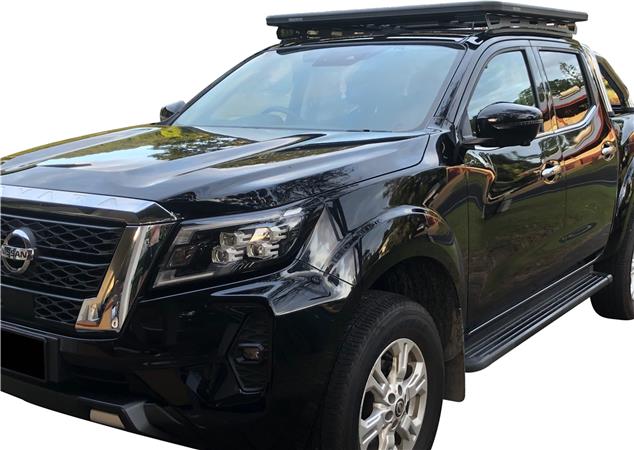 Utemart LOCKNLOAD PLATFORM + RUGGEDLINE®
NISSAN NAVARA 2021 2022
Platform L 1375 x 1400 mm (Pre-assembled) x 1
SKU: 9820348

$820.00
+ LockNLoad Track Kit Nissan Navara NP300 DC 2015- x 1
SKU: 8000328

$189.00
+ RuggedLine® Nissan Navara D23 DC (NP300) 2015+ x 1
SKU: 9841018

$550.00
Configuration:

Platform L 1375 x 1400 mm (Pre-assembled)
Mount Type:

Track Mount
Product Load Rating:

100 kg
Please refer to the vehicle manufacturer specifications for max load capacity of vehicle. The lowest load rating applies. Reductions may apply off road. Learn more.
Total Product Weight:

27.6 kg
Retail Part No.

YRGL021L
Comments:

Attaches with permanent tracks riveted to roof. RuggedLine® can be removed.
(Y-621-PLAT-L-RL-DC)
Thank you for writing a review. By sharing your thoughts, you help website visitors make a better purchasing decision. In addition, your feedback helps us to improve our products and service.
There are currently no reviews for this product.
SHIPPING CALCULATOR
---
Pick up
- $0.00
"Pick up" option must be selected on item